Jamaica Arts & Music Summer (JAMS) Festival
Join Us for 2 Exciting Days
Jamaica Arts & Music Summer (JAMS) Festival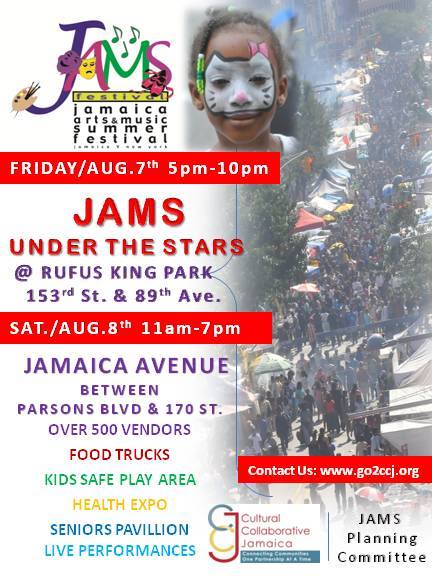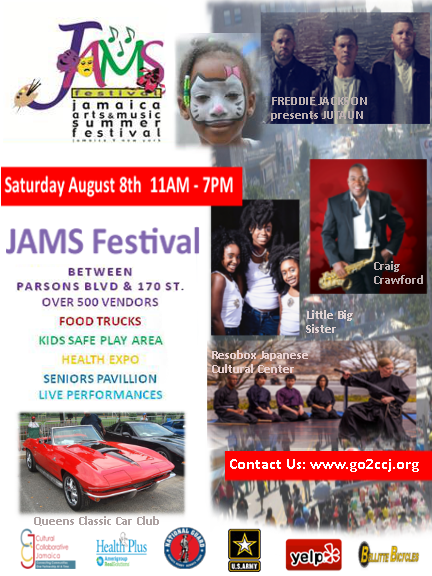 JAMS, the main event is a day of multi-cultural & educational family fun, shopping, community resources & entertainment. Located on (10) blocks of Jamaica Ave, (closed of vehicular traffic) from Parsons Blvd. to 170th Streets, to host one of the largest tourist destinations in Queens.
History of the JAMS Festival
Comprised of two days on the  first weekend in August along ten blocks of Jamaica Avenue, which are closed to vehicular traffic. Attracting upwards of 185,000 + residents & visitors to downtown Jamaica. The JAMS Festival showcases the diverse cultural talents, foods, arts & crafts of the Borough of Queens, promoting family and Youth centered activities, the work of Collaborative Members, community partners and tourism for Jamaica. A highlight of the festival is the 'JAMS Under the Stars'kick off evening concert.